Hop on over to MamaKat's place to join in!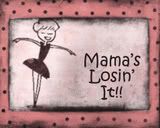 There are so many ways I am creative.
I try to write & that doesn't always work out so well, but it is a creativity outlet.
I love, love, love creating computer graphics! Here are just a few examples of things I've done (not blog work, just being creative).
I also love, love, love creating jewelry. I get to try new things everyday and sometimes I do surprise myself with the designs I come up with. Sometimes I wish I had more to work with so I could get even more creative, but I have to make do for now. I don't know if everything I create is great, I just know that it makes me happy & I love it! Here are some examples of that:
That last set will be up for auction soon. I'm auctioning off jewelry for a donation to the
Susan G. Komen Foundation
. What better way to use my talents than for charity to help find a cure.
This is how I am creative, for the most part. I won't mention how I talk in funny voices to entertain my kids or sometimes make up stories for them, about them. Andy loves my
Dandy O'Brandon
stuff. Maia loves
Little Maia Musket (Mustget)
. One day I might share those here, but for now, this is enough. I hope you find my creativity entertaining. I'll be dropping by many of you tomorrow to see what prompt you chose.