I didn't have any "baby bump" pics to share because I don't think I ever allowed anyone to take photos of me while I was preggers. Except at my shower, but I only have one of those & the bump is not visible due to the gift in front of me.
I'm so glad Shell over at
Things I Can't Say
decided to do a Rockin' the Baby share!! I have to thank her, too. I spent better than an hour going through some of my photos & got so many giggles seeing them all when they were beebies.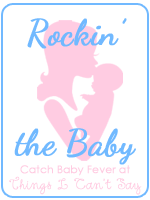 It was very difficult picking just one photo of each of them. But I managed & I picked a few of my faves. I'm the last one. That was eons ago.
My only daughter. She had to have been just over a year (and still barely any hair!). She's now 7 and those 7 years feel like a millisecond!
My Andewd. He was my happiest baby, and around 5 months in this photo! This was the way I remember him being...always! I don't remember crying, fussing or being, well, a baby. I just remember him being the sunshine in each & every day. He's now 10 and my biggest challenge.
Don't mind the wet mark on the photo, that's what happens to those oldies sometimes. I didn't always keep them in the safest of places. Kyle was about a year & a half in this one. He's now 16, almost 17.
My charmer! He was a very happy baby, too. (all of my kids were, I was so very fortunate!) I think he was around 5 months old in this one. Steven is now 24, almost 25. Yeewe...that's almost a quarter century.
Me, me, me! I won't say how long ago this was. I'm thinking I had to be around 4 or 5 months old. I didn't have much hair when I was a baby, either. Mom told me I didn't have barely any until I was around 2 or so.
So that's that! I don't have a single pic of my husband from when he was young. Not one. Otherwise I would have shared something of him. Thanks to all of you who drop by! I will be dropping in on as many of you as I can fit in tomorrow & over the next few days!